The step by step guide to working in Formula 1. The Insiders Guide.
Welcome to the world of formula one and Jobs in F1. When I started my career I had little to no guidance on how to build a career in motorsport, let alone know how to get a job in formula 1.
I had to find my way around the hard way, research where to study and which courses to enrol on, worked really hard to get experience whilst studying, and even harder to build my own contacts, learn how to write a really good CV, and figured out how to impress at an interview and eventually after 15 years of effort got to work at a really great F1 company.
I really enjoy my career, and there are many people who would like to be part of F1, but like me had no idea how to get a job in F1. The good news is that F1 is a global industry getting bigger every year as new circuits and new teams are added to the grid.
I have written a book all about the jobs that exist in F1 companies to help you plan your career and save you a lot of time and effort as a simple step-by-step guide to getting an F1 Job and doing something you really do dream about.
Jobs in F1 explains how to become Formula 1 driver, we explain how to start your racing career, which formulas to compete in that lead to F1, which organisations to join and how to secure your F1 seat on the grid.
If you would like to become an F1 engineer we explain how to build a career in formula one, the qualifications required to perform many of the team roles, we give you clear guidance where to study and the courses to move you quickly into the Motorsport it is really important for pupils that are not based in the UK to choose the right academic courses when in secondary education. In our "How to get a job in Formula 1 guide", we explain the courses required to give you recognised grades for UK based universities and companies. By taking the courses and achieving the level of results recommended you will be in the driving seat for your university education.
Just as important as a qualification we will teach you how to develop your network connections in the motorsport industry and how to find the right recruitment in F1. Do not be dismayed if you do not have an engineering degree there are several jobs and careers performed within an F1 team and support industries.
So if you would like to know how to get a job in F1 you can order a copy of our Formula 1 career guide. This includes contributions from past and present members of the formula 1 circus, motorsport industry, and universities. So subscribe to Jobs in F1 on the home page and be amongst the first buyers to receive the limited introduction discount price of £15.00 plus £1.99 post and packaging.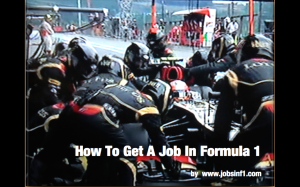 Subscribe to Jobsinf1 and be entered for free into our competition to win an F1 1/18 scale model of this years F1 Champion, as well as the opportunity of being one of the luckily subscribers to purchase the "How To Get A Job In Formula 1″ book at the introduction price.