Welcome to the world of F1 and Jobs in F1.
The step by step guide to working in Formula 1.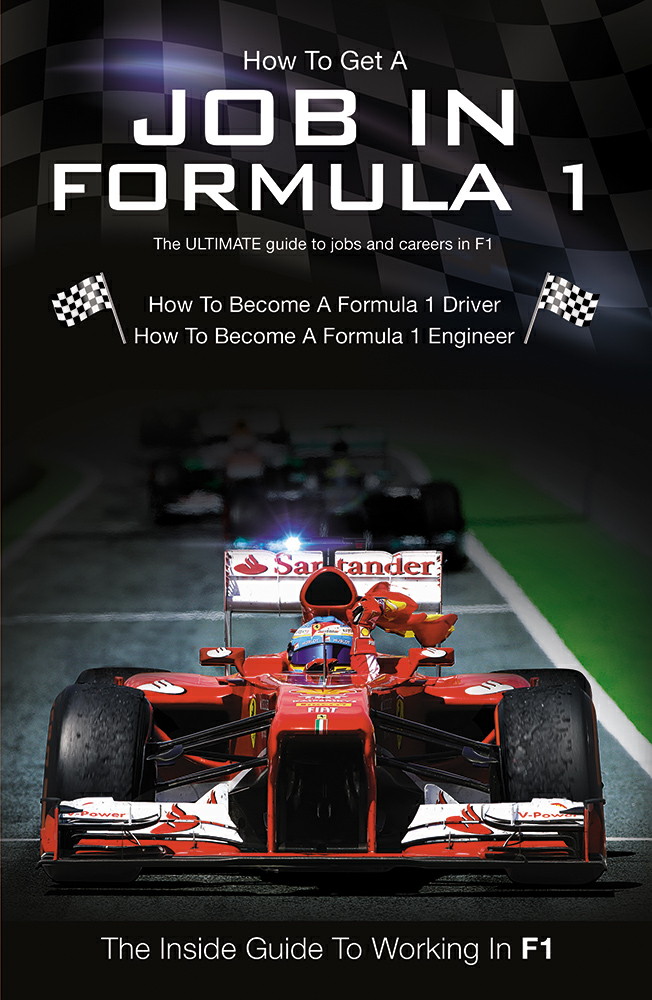 When I started my career I was given little to no guidance on how to build a career in motorsport, let alone know how to get a job in formula 1.
I had to find my way around the hard way, researched where to study and which courses that I needed to enrol on, I then worked really hard to get the experience I needed whilst studying, and even harder to build my own contacts, learnt how to write a really good CV, and figured out how to impress at an interview and eventually after 15 years of effort got to work at McLaren.
I really enjoy my career, and there are many people who would like to be part of F1, but like me had no idea how to get a job in F1. The good news is that this book and website will save you a lot of time and effort.
People always ask the question: "how does someone become a formula 1 driver?"
If your dream is to become a driver we explain how and where to start your racing career, which organisations to join, where to get your equipment and the budget you need, where to get professional training, how to get sponsorship and management, and we explain the formula's that you need to compete in that lead to F1, and how to secure your F1 seat on the grid.
The second question asked is:
"how do you become a F1 engineer and what qualifications do you need?"
If you are going to choose a professional career we explain the jobs that exist with a Formula 1 company and provide you with details of the roles performed and the tools used by teams to help design and build the cars.
If you would like to become a F1 engineer we explain how to build a career in formula one, the qualifications required to perform many of the team roles, we give you clear guidance on what to study and where to study with universities preferred by the F1 teams. But academic achievement
alone is not always enough, we give you the inside tips on actions you can take that will make you stand out from all other candidates.
It is really important for pupils that are not based in the UK to choose the right academic courses and we explain the courses required to give you recognised grades for UK based universities and companies. By taking the courses and achieving the level of results recommended you will be in the driving seat for your university education and a career in F1.
Just as important as a qualification we will teach you how to develop your network connections in the motorsport industry and how to use those to create your opportunities by explaining how recruitment works in F1.
The third question asked is: "Are there any jobs that do not require a degree?"
Even if you do not have a degree, F1 needs you. There are several jobs within the teams and the supporting industry that can help to fulfil your ambition of being a part of Formula 1.
If these are questions that you have asked yourself, or you are planning your career it is time to take action and get the answers that you need by ordering your copy of "How To Get A Job In Formula 1" for £14.99 plus £1.99 post and packaging.